Tomatoes in Korean fast cooking. Top 9 most delicious recipes
Hello girls and boys!
This mood is good, that I want to create again in the kitchen. And this time I want to share with you excellent recipes of tomatoes in Korean - this is such a snack, which is prepared very quickly and at the same time it is the most delicious. If you are a fan of Japanese and Chinese cuisine, oh exactly appreciate.
Honestly, a few years ago, nobody knew about such recipes, and now their authors, so to speak, the developers each year delight us with something new. And I am honestly glad of this, because in the way cucumbers and zucchini come out in this way - you will lick your fingers. So why not try to stir up such a snack with tomatoes.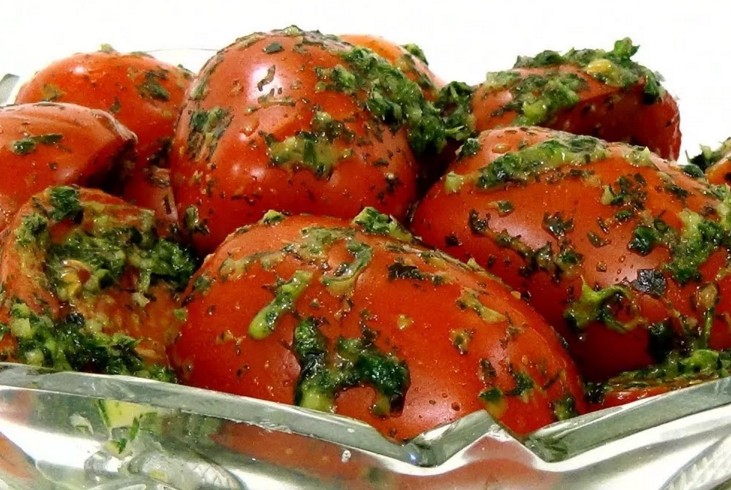 This sharp little salad is a divine dish on a festive table, as well as a unique and inviting one, if you put it for dinner with any side dish.A feature of these blanks is that they can be made and almost immediately eaten on the same day, or hidden in jars, and then in the winter to enjoy the gifts of summer.
I remind you that for such an unusual delicacy you can take not only ripe juicy fruits, but even cook from green ones. Imagine how cool. Of course, you can't do without burning hot peppers, you can also add various seasonings, and, in addition, vegetables such as paprika or carrot. About all the subtleties and nuances read further in the text.
I tried to reveal all the secrets of famous chefs to make it fly away and beautiful at the same time! I did it or not, decide for yourself, please write down your comments below the article or share your tips and recommendations. I would be immensely grateful.
Well, now, without losing precious time, let's go. Choose any option and let it occupy a favorite place in your cozy house or apartment!
Tomatoes in Korean - the fastest and most delicious recipe
An incredibly magnificent and at the same time simple recipe that became a hit and a bomb of the summer season.And he still conquers all those who have never been able to try it. I recommend to keep up and make this cool salad right now.
That's just one thing, the language does not swallow with pleasure))). After all, this miracle can be served with any meat delicacies, such as chicken or meat in French. Recently, we had a rest in the country house with a cheerful company, so we made a bunch of kebabs, put okrosechka and I surprised everyone as always. I got this red snack out of the jar. In short, she left with a bang, and it is clear why.
We will need:
Tomatoes - about 2 kg
Sweet pepper - 1-2 pcs.
Garlic - a pair of heads
Parsley, dill and green onions
Bitter chili pepper - 1.5 pcs.
Vinegar 6% - 100 ml
Vegetable oil - 100 ml
Sugar - 4 tbsp. L
Salts - 2 tbsp. l
Stages:
1. Before you start cooking, you need to wash all the vegetables and herbs in running water. Allow all the liquid to drain, to do this, put all the products for a while on a towel. Then finely chop the dill, parsley and onion with a knife. You can also take basil, at your discretion.
To speed up the work, you can use a blender, but this is not necessary. Although in principle the following actions will be performed in this device,put the peeled slices from the seeds of Bulgarian pepper and garlic cloves with red chili. Turn on the appliance and grind into mush. Get two bowls of "potion."
2. Mix all the ingredients in one, and then pour in the vegetable oil. Sprinkle with sugar and salt, mix and add vinegar. Just do not confuse with the essence of 70%. fragrant fill is ready.
On a note. For more aroma, you can take olive.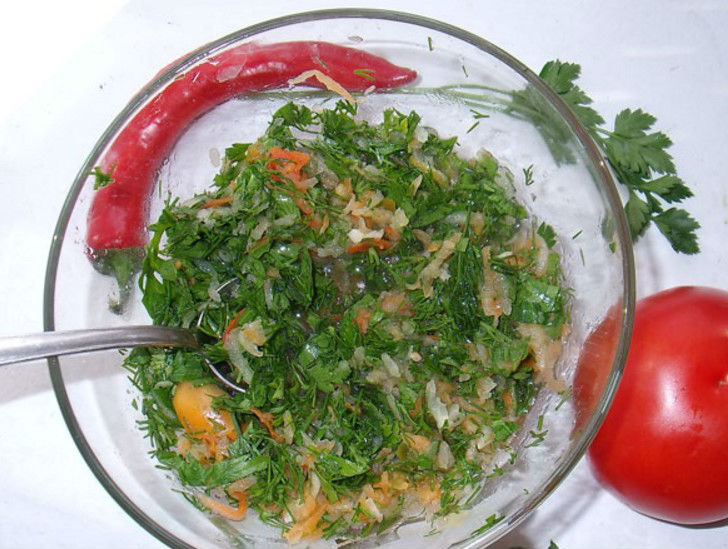 3. Now chop the tomatoes either into slices or into slices. I think that such slices, as shown in this photo, the best cut. Do not forget to just cut the place where the stem was, it is tough and inedible.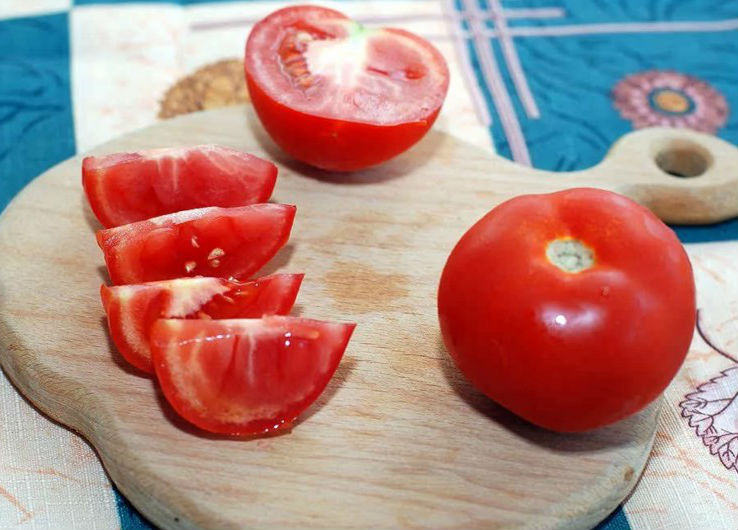 4. Next, do so, take a clean and dry wiped jar, you need a capacity of 3 liters, you can use 1 liter and 2 liter jar, then you need to take more or less ingredients.
Act and adhere to such a plan, put slices of tomatoes on the bottom of the jar, pour in sauce, then tomatoes again, after pouring and so on, until the products run out.
Spin the lid, take the screw, because the nylon will not work because the container should be turned upside down after closing and allowed to stand in this state for 12 hours in the cold.And after this time, turn it back to normal and hold it for another 12 hours.
Wow, you! This is done so that each layer is soaked evenly and thoroughly. This is the first secret.
It turns out that after a day your snack will be ready, store it strictly in a cool place for about 7 days and do not show it to anyone. Eat tihorya, just kidding! Bon Appetit!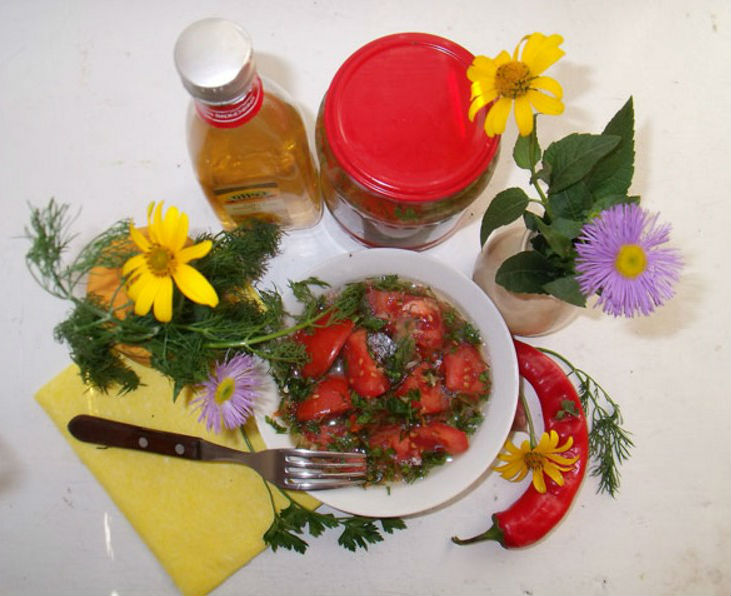 Tomatoes in Korean - just delicious, be sure to cook!
This video last year probably went around all those who use the Internet and social network in classmates just saw it. If you missed this novelty, then correct it. After all, such know-how will not leave anyone indifferent if you like spicy dishes.
On a note. Please note that in this embodiment, all the spices and greens are selected perfectly, which means that you will get a cool dish full of flavors.
We will need:
Stages:
1. Chop the dill and parsley fairly finely with a knife.
Wow! If you do it large, the greens will not give up their summer flavors. This is the second secret. Instead of dill and parsley, you can take cilantro and basil.
2. Peel the sweet Bulgarian pepper from the seeds and remove the stem, chop into small pieces, place in a blender cup and twist. And then add vinegar, vegetable oil.Through the press, skip the garlic and almost all the focus.
All that is needed is to add spices, a pinch of paprika (it can be replaced with ground black and red peppers), ground coriander and, of course, granulated sugar with salt. Without these two components nowhere. Mix everything thoroughly and let stand for a couple of minutes.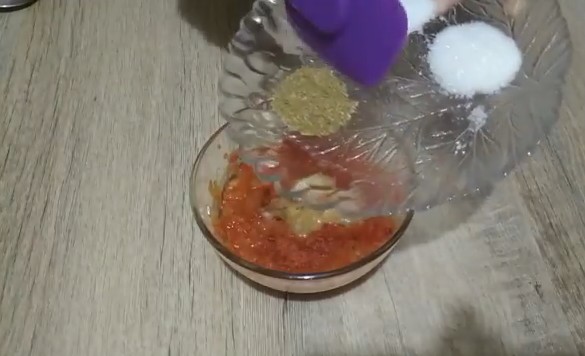 Then add the chopped parsley and dill. Stir.
3. Now take care of the tomatoes, wash them, remove the edge, cut into 4-6 pieces depending on the size.
Did you know? Take the tomatoes are not too juicy, but it is better to take with fleshy pulp, so as not to drain the juice.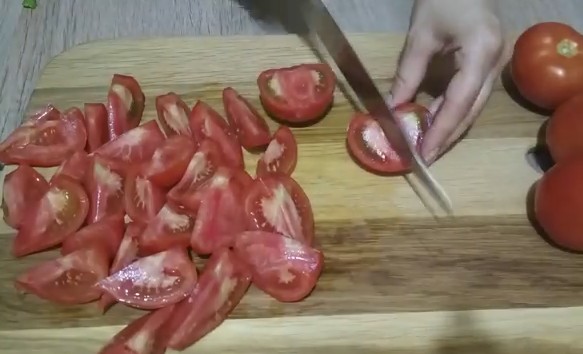 4. In a 1.5 liter jar lay out the first layer - tomatoes, after filling, a layer of tomato and again - tomatoes and so on. Cover with a plastic lid and roll the jar so that the sauce spreads along the sides of the container.
5. Turn the jar upside down when you open its top layer to be the most marinated, so sometimes alternate, then turn over, then lower to the starting position in the refrigerator. Marinate should be 24 hours.
6. And after you open it, you will not resist this magic smell, eat right away. And this recipe will be one of your favorites.Pleasant discoveries!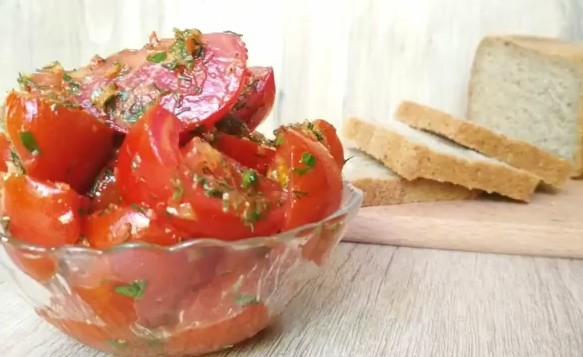 Korean tomatoes with quick-cooking slices in 3 liter jar per day
You do not know where to put juicy and meaty tomatoes, already ate fresh vegetables to satiety. Then this option will be a salvation for you, just such you can use in this case. In addition, I propose a step by step master class, from which you will definitely become the king or princess of the culinary business.
Neighbors will come running and will ask to give this recipe, and all because that marinade is special. The smell is magical and it rushes through all the floors. Here are the news, fascinate everyone and of course, happily treat your loved ones and relatives.
Recipe for a cool snack without sterilization with basil
There is nothing more beautiful when the serving plate contains not only vegetables, but also greens. This gives even more chic appearance, and the body eats even more vitamins and a charge of energy.
Therefore, undoubtedly, I would like to recommend such a masterpiece to be made by the arrival of guests, because you are waiting for them today for a dinner party? No, then just do it, because your family also deserves to be spoiled.
We will need:
Ripe tomatoes - 1 kg
Bulgarian pepper - 2 pcs.
Garlic - 10 teeth
Basil, dill - 1 bunch
Soy sauce - 4 tbsp
Vegetable oil - 45 ml
Vinegar - 50 ml
Hot chili pepper - half
Salt - 2 tsp
Sugar - 2 tbsp. L
Stages:
1. Use a sharp knife to chop up Bulgarian sweet pepper or slices.
2. Quite finely chop the dill and basil.
3. Peel the head of garlic and divide it into cloves.
4. Now you need to beat these ingredients into a mush, a blender will help to do this work. And to get a real fill, like the Japanese, pour in vegetable oil, plus add vinegar, soy sauce, and of course salt and sugar in your own way. The ingredients indicate the approximate amount, you can focus on yourself.
Beat the mass again in an electrical appliance so that it becomes homogeneous in consistency.
Do you know? This wonderful filling can be used absolutely to any side dish, or ready-made dish, for example, to pilaf or potato casserole.
5. Tomatoes must be cut into slices or circles. And now take any container, for example a food plastic container. Put it tomatoes and fill them with such a Korean dressing, shake. The cover should be tightly closed.Store in the refrigerator on the middle shelf.
Already on the next day you can try. The treat is ready! Call everyone to the tasting, and do not forget to take big spoons and open your mouth wider!
Spicy Korean-style tomatoes - a delicious recipe for "tongue swallow"
here is the truth, that is, t not take it away. The first time you try, the explosions of emotions overwhelm your soul. Of course, be careful, all such hot peppers, if you put too much of it can hurt, will make you Gorynych. Ah-ha, today I have a great mood, because all of mine are in the collection. Therefore, I want to joke and have fun.
Tomatoes with seasoning for Korean carrots for the winter - yum fingers!
And now another mega cool feed. It uses a secret chip, you know, like the agents. By adding seasoning for Korean carrots, you will once again underline and improve the taste of this brilliant, but at the same time simple snack. Which we have become accustomed to do at home, rather than buying in restaurants or shops.
By the way, if you are in a hurry, then take a ready-made carrot in Korean, because it already has this seasoning. But, of course, it is better if you do everything yourself, and this instruction will become your guide in culinary business.
Since such a salad is made for the winter, notice, although you can immediately try the way you guessed it, you can't do without vinegar, because all the preparations for winter storage go almost with him. And act as a preservative. Well, we proceed.
We will need:
tomatoes - about 1 kg
garlic - 12 cloves
Bulgarian pepper - 1 pc.
carrots - 2 pcs.
vegetable oil - 50 ml
Vinegar 9% - 50 ml
granulated sugar - 50 g
dill - bunch
red and ground pepper - at its discretion
Stages:
1. Yellow pepper with garlic cloves scroll in a blender bowl until mashed.
2. Freshly grate carrot, use a special for Korean salad.
3. Dill fairly finely chop with a kitchen knife.
4. In tomatoes, cut off the place where the stalk was, then cut them in half.
It is better to take varieties for this snack.
And now, when everything is ready, on tomatoes, which can be put on a dobrovka, weave the ground bell pepper with garlic, then sprinkle with black and red pepper. Determine yourself how much to pour, but keep in mind the more you add, the sharper and more burning it will be.
5. But in the carrot, add the chopped dill, salt and sugar.Pour in vinegar and vegetable oil, stir. This marinade should pour all sliced ​​tomatoes (which should not be on the table anymore), but in a glass jar, as experienced cooks advise to do this best of all in layers.
6. It is possible to eat such a delicacy in 6-9 hours, and preferably in a day. Store strictly in the refrigerator. It turned out beyond praise.
This is the first option, and the second - in a sterilized jar, put a mass of tomato layers, shift the special pouring carrots. Cover with capron or screw caps. And put the blanks in the pan. Put a towel on the bottom and pour cold water over the hanger. Bring the liquid to a boil and sterilize for 15 minutes. Make the fire small.
Now turn off and twist the cans under the screw cap. Turn the cans upside down and wrap them in a blanket, let them cool, and after 2 days lower them into the basement or into the cellar.
This is a crazy miracle that is impeccably beautiful and more and more conquering human hearts. New this year, try to cook, my friends! See, when you eat, do not bite off your fingers, you probably will have to lick, ahaha.
How to cook tomatoes with soy sauce
Original and tasteful, so said my beloved husband. You know, it's impossible to argue with men, that's the way it is, because the truth is that the marinade came out bravenky. It was soy sauce that made this snack just awesomely tasty and moderately salty.
We will need:
fresh tomatoes - 1 ksh
garlic - head
sweet pepper - 1.5 pcs.
chili pepper - 1 pod
basil, dill and parsley - 1 bunch
vegetable oil - 70 g
Vinegar 9% - 70 g
soy sauce of any brand - 2 tsp
sugar - 4 tbsp. l
salt - 1 tsp
Stages:
1. Wash the fruits and cut them in half or in quarters, depending on the size.
2. Chop the Bulgarian pepper and chili into small pieces.
3. Grind the whole green curd too into small pieces.
4. But the garlic just peel and put in a bowl combiner or blender. Add to it everything else, that is, sliced ​​two kinds of pepper and greens.
5. Pour in soy sauce, plus vinegar and vegetable oil. Grind
6. Then add sugar and salt, mix again and chop with a blender. No pieces should come out.
7. The mass should be homogeneous and similar to a mushy mixture. Something like this, it looks like.
8.After that, it will be necessary to pour sliced ​​tomatoes with such filling and stir gently and slowly. Do this in a large basin or deep bowl. After that, cover with a regular lid or cling film.
9. This dish will need to stand in the refrigerator for 12 hours, and then you can safely eat. During this time, you can sometimes open and mix to speed up the marinating process. Bon Appetit!
Korean tomato salad - quick and tasty
You are an amateur or gourmet spicy snack. No, probably the king. Well, this light summer salad will certainly fill up your collection in the cookbook.
This description is designed for a small number of products, try, and then you can increase the proportions of ingredients. Although you can safely experiment and modify the ratio, because no one bothers you.
This time we'll use apple cider vinegar, so buy them.
We will need:
Tomatoes -
Garlic -

8 teeth

Salt -

1 tbsp. l

Parsley -

1 bundle

Basil -

1 bundle

Dill -

1 bundle

Hot peppers -
Olive oil -
Apple Cider Vinegar 6% -
Sugar -

4 tbsp
Stages:
1.since Korean-style tomatoes are a fast-food dish, then the cooking process itself should take a small amount of time. And it is better if it can be done instantly. For this purpose, it is recommended to place all the greens in a blender, together with garlic cloves and grind knives into porridge.
Then add the sugar, salt and hot pepper, pour in olive oil and vinegar. Get a special sharp marinade.
You can even take sesame and olive oil to diversify your menu.
2. Now combine the finely chopped tomatoes into pieces and store in the refrigerator for a couple of days.
3. If you want to speed up the process, then do not put them in the refrigerator, leave on a table in a warm place. And in just a couple of hours, you can set the table and serve for dinner or lunch as a snack.
Korean pickled tomatoes in package
I do not know what else to say, but I will say it bluntly - super! What could be better when you can take a regular plastic bag to put everything you need there and in just 5 minutes you have a ready dish on the table.
Remember, when salted cucumbers were made in a package, how nice it turned out! Here the technology is about the same.
Tip of the day! It is better to use bags for freezing, they have great strength.Or take two and insert one to one!
That turned out to be quite a piquant pick. I hope with such a cool tomato snack you diversify your cellar, if you make it for the winter, or immediately just put it on the table.