Okroshka with sausage - classic recipes
Good day, dear friends! Today, on this warm day, I offer you these easy recipes for a classic summer dish. I think that in any family without a cold soup in the summer, not one feast, celebration, holiday or just a simple lunch or dinner will do!
In this article you will find the most delicious variants of classic okroshka with sausage. Why with sausage, you ask, you can take poultry or beef. I do not argue that this dish is tastier with them, but when the temperature outside is 30 degrees, not everyone will want to stand and boil the pieces of meat at the stove.
If you want to cook this soup all the same with some kind of meat, then perhaps this article will help you:
Classical okroshka with sausage - recipe on mineral water with mayonnaise
An unusual version of this dish, because it added such a red ingredient as fresh tomatoes. They will bring juiciness to this soup. Mineral water can be consumed with or without gases.Mayonnaise can be replaced with sour cream, try, proceed from your taste preferences and, of course, from financial possibilities.
Preparing it in any combination will be very tasty and unusual, rather than on ordinary bread kvass, as everyone is used to.
We will need:
Cooked sausage - 200 g

potatoes -3 pcs.

cucumber - 2 pcs.

eggs - 4 pcs.

radish - 5 pcs.

Tomato - 2 pcs.

green onions - 150 g

mineral water - 1.5 l

mayonnaise to taste

dill - 100 g

salt to taste
Cooking method:
1. Cut the sausage small, anything, the main thing is to make it beautiful. Use only a well-sharpened kitchen knife.
Important! Buy fresh sausage in the store, carefully read the composition and date of production.
2. Cucumbers before chopping, wash in water. It is advisable to take home, as they are much more stocky than store.
3. Boil the potatoes in their skins. Remove the skin and cut as shown in the picture.
4. Eggs are best to take chicken, as they are larger than quail.
5. Radish can take white or any other, of any kind, it does not matter. Cut it thin, try to keep the pieces the same and similar to each other.
6Appetizing onion, preferably before cutting put in cold water for a couple of minutes, so that he acquired some freshness. Chop it up as shown.
7. Fill the dill first on the cutting board, and then chop.
Important! If you do not add salt, then it will not give the desired flavor in this dish.
8. Mix all resulting products in a saucepan. Pour soda and add sour cream or mayonnaise to taste. Salt it.
9. Stir. Let it stand in the refrigerator for at least an hour.
10. After that, you can pour into skeet. Lovers of horseradish, you can add it to each plate, pre-grate it.
11. If you want to make okroshka more juicy, then add sliced ​​tomatoes to this dish in already spilled cups. Bon Appetit! You will definitely like this option and will become the most beloved and tasty in your menu.
Do you want to diversify this dish? Then go ahead and read this note, you will find interesting dressings for this cold soup in it, and replace traditional kvasok with mineral water, kefir, mayonnaise, lemon juice, or you may want to cook hot Polish okroshka.

Okroshka with smoked sausage on kefir or airana
In this embodiment, any smoked meats are used, it can be smoked sausage, or smoked chicken breast. Filling is used on the basis of kefir, airan, or even tan. Choose to your taste and create!
We will need:
potatoes - 3 pcs.

boiled carrots- 1 pc.

cucumber - 2 pcs.

any smoked meats - 200 g

kefir, ayran, tan - 1.5 l (for your taste, choose one or the other)

egg - 4 pcs.

onion and dill to taste

salt to taste
Cooking method:
1. Boil young and fresh potatoes in a saucepan, peel and dice.
2. Next cut the carrot, which will give a beautiful bright shade in the soup.
3. Fresh green cucumber peel and chop the kitchen nome into pieces.
4. Cut the meat or smoked sausage gently so that the pieces are small.
5. Grind eggs, so that the pieces are not very large.
6. Wash the onion in water and cut it immediately. Do the same with dill.
7. Mix everything up. Add any fermented milk drink. Dilute it with a little boiled water, to the thickness that you like. Salt it.
8. Pour Skeet.For the original serving, use ice cubes with onions. Have a nice and tasty eating!
Cooking cold soup with kvass
We will need:
egg - 2 pcs.

potatoes - 1-2 pieces

sausage - 150 g

cucumber - 2 pcs.

Dill and onion greens - 300 g

kvass - 1 l
Cooking method:
1. Grind all ingredients as shown: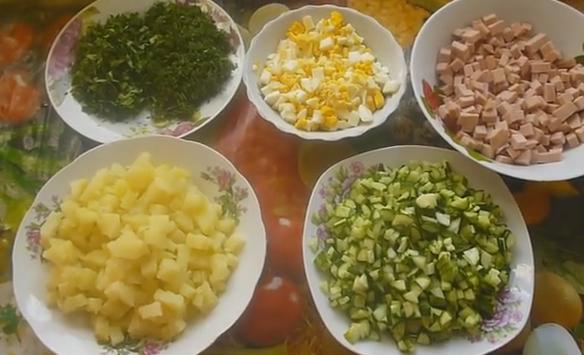 2. Mix them in a bowl.
3. Then spread the mixture into plates.
4. Serve the dish with kvass. Add sour cream. Salt the dish. Serve with crackers) Bon appetit!
The recipe for beer - this is not you have eaten!
If you want to surprise your friends, then take note of this video. It has a cold soup using beer and cold smoked red fish, it will not let those in need die))) пом And remember, excessive drinking of beer okroshka can harm your health :)
And you did with such an alcoholic dressing, I have not yet, share your feedback, how do you like this option. Is it tasty?
P.SWhat can be served to this summer cold soup on the table? Friends, what do you usually serve with this dish? Write your comments, always glad to read them 🙂
I decided to share one recipe, in my opinion very fast and very tasty, which can be served to this dish.
Borodino bread croutons, fried in vegetable oil with onions and sprat
We will need:
Borodino Bread - 6 pieces

Green onions or onions to taste

Sprat in tomato or butter - 6pcs.

Vegetable oil - 1-2 st.l
Cooking method:
1. Fry the pieces of bread in a pan, applying vegetable oil.
2. On each piece, put the sprat, sprinkle with a green onion. You can sprat and not lay down, and put for example pieces of fat 🙂
Well, if you want to tinker a bit, then prepare garlic dumplings, which are usually served to real Ukrainian borscht.